<>
Sales of industrial fans & blowers, highpressure blowers, centrifugal fans, axial ventilators, roow and wall exhaust and supply fans, material handling blowers & radial fans, scroll cage fan ventilators, high temperature fans and blowers, New York Blower, Twin City Fan / Aerovent, Chicago Blower fans, Peerless Fans, Dayton Ventilators, Sheldons fans & blowers, Canarm Leader ventilators, IAP fans, Industrial Air.
Custom Packaged air-handling units:
steam AHU
gas-fired, indirect and direct AHU
condensing AHU
refridgerant AHU
multi-zone ad mixed-flow AHU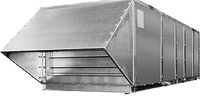 for all types of industrial and commercial applications:
Aerospace
Automotive
Chemical
Clean Rooms
Food Processing
Hospitals
Marine
Pharmaceutical
Semiconductor
Schools
LONG SERVICE LIFE:
We use premium quality industrial-grade materials and additional protective coatings for external surfaces and internal components of our Air Handling Units - to withstand the specific gases flow and the installation conditions of each application, industrial and commercial / institutional.
CAPACITIES:
Up to 100,000 CFM for standard construction and larger, custom made on special request.
FLEXIBILITY:
Every unit is designed for the specific installation and connections conditions. The unit floor area and its cross section dimensions are adjusted for precise room available at site.
EASY INSTALLATION:
Packaged compact or sectional design provided with lifting arrangement and protections for easy transportation and handling / installation at site.
LOW MAINTENANCE:
Service friendly design which provide large room inside cabinet, access doors, light and rigid floor ensuring accessibility to all components.
HIGH EFFICIENCY:
Fans, coils, motors, humidifiers, filters, external insulation material, silencers, enclosure tightness, and other components are carefully selected and engineered for lowest energy consumption.
OPERATIONALLY SAFE:
Safety devices and guards are provided in accordance to the international regulations and the customer specific requirements.
PRECISE PERFORMANCE:
to match the customer capacities requirement utilizing the computerized selection for each component.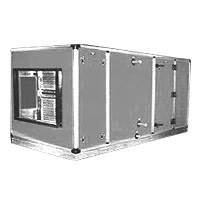 DIRECT AND INDIRECT GAS-FIRED AHUs
Canada Blower makes two primary gas-fired AHU types: direct gas-fired and indirect gas-fired.
DIRECT GAS-FIRED AHU
A direct gas-fired AHU has a gas burner installed directly in the outside makeup-air stream. The products of combustion (carbon dioxide [CO2], carbon monoxide [CO], nitrogen dioxide [NO2]) are discharged directly into the makeup air stream and supplied to the building area.
INDIRECT GAS-FIRED AHU
An indirect gas-fired AHU has a sealed combustion chamber where all products of combustion are discharged through a flue to the outside environment and no products of combustion are discharged within the make-up air supplied to the building. Such equipment also frequently is utilized for recirculating-air applications.
DIRECT-GAS-FIRED-AHU COMPONENTS
Though simple in principle of operation, direct gas-fired AHUs have sophisticated burner-control systems. Unit sizes range from 1,000 cfm with a heating capacity of 80,000 Btuh to 100,000 cfm with a heating capacity of 15 million Btuh. Direct-gas-fired-AHU components usually include housings, supply fans, outside air intake hoods, intake dampers, filters and burners.
AHU HOUSINGS
AHU housings are made of galvanized or aluminized steel. Access panels are provided to access dampers, filters, burners, and fans / motors. AHUs located outside are provided with a sloped roof and standing seam joints.
SUPPLY FANS
Fans typically are double-width double-inlet (DWDI) with forward-curved or backward-inclined blades. Fans can come with open drip-proof (ODP) or totally enclosed fan cooled (TEFC) motors. The most typical external static pressure in the 2- to 3-in.-wg range. Because most outside istalled air handling units can operate below 0°F, fan motors and bearings are rated to handle lower temperatures. For applications that require supply-air temperatures higher than 110°F, the motors and fan bearings are rated for maximum design operating temperatures when placed in draw-through configurations.
INTAKE DAMPERS AND HOODS
Outside air intake hoods or weather hoods are designed for an installation specific location and usually provided with bird screens. Outside-air intake isolation dampers are furnished to prevent cold air from dropping through a unit into a warm building and warm air from escaping through a unit during winter months, when it is not in operation. Low-leakage parallel blade isolation dampers are most standard. The fan discharge is located at the opposite to isolation-damper position.
FILTERS
A filter cabinet normally has 30/30 filters in a V-bank configuration to increase filter area and reduce static-pressure drop across the filters. Higher-efficiency filters are used on application.
BURNERS
A burner consists of a cast-iron or aluminum pipe assembly with drilled gas orifices. The fuel-air mixing is controlled by perforated stainless-steel baffles attached to the pipe assembly. The burner can be placed in the outside airstream or in the outside / return mixed-air stream. But to prevent potentially hazardous combustion byproducts of indoor-air contaminants, the burner is placed in the outside airstream only. The required airflow across the burner must be within a specific velocity range (typically 2,500 to 3,500 fpm) for proper combustion. For variable airflow units, a modulating bypass damper or profile plate maintains the airflow velocity within the specified velocity range. Otherwise, the burner can experience inefficient operation, generate odors in the occupied spaces served, and create an un-safe increase in certain products of combustion.
For competitive quotations click here:
Liquid-to-Air Heat Exchangers
Air-to-Air Heat Exchangers
Air Handling Units

https://plus.google.com/102616546422082131839
https://plus.google.com/102311286097164163377
https://plus.google.com/107231079430828621931
https://plus.google.com/111596625177807526370
https://plus.google.com/118190682273192099846
https://plus.google.com/113513002096249487235
https://plus.google.com/117309652142622889746
https://plus.google.com/104101629230663799875
https://plus.google.com/104415802614167913618
https://plus.google.com/115127896144656800681
https://plus.google.com/109045781106302551453
https://plus.google.com/116073109945228053311
https://plus.google.com/110013720945912754250
https://plus.google.com/106653206051822611556
https://plus.google.com/115662835031688954342
https://plus.google.com/115239244634619732354
https://plus.google.com/113744458070772685856
https://plus.google.com/109806707212851032011
https://plus.google.com/101289508432711736347
https://plus.google.com/100077122149715430995
https://plus.google.com/102123093802586760032
https://plus.google.com/100170453029674117575
https://plus.google.com/112525575804657761593
https://plus.google.com/102364987912046650682
https://plus.google.com/117758259523727627187

Suppliers of industrial regenerative side channel blowers, forward curved pressure blowers and fans in stainless steel, alloy, cast aluminium, cast iron, polypropylene and FRP construction. Canadian Blower, Chicago supplies replacement forward curved blowers and wheels for forward curved blowers and fans manufactured by Buffalo Blower - New York, Twin City Fan, Northern Blower, Chicago Blower, Sheldons, Cincinnati Fan, Hartzell, IAP, Industrial air products, Canadian blower, Aerovent, Penn Ventilation, Penn-Barry, Barry Blower, ACME, Aerovent, Alphair, American Fan, Lau Industries, Clarage, Delhi, Canarm, Leader Fan, Daltec, ABB, Flakt, Flaktwoods, Woods, MK Plastics, Robinson Industrial, Garden City Fan, Loren Cook, Jen-air, Jenn Fan, Aeroflo, Grainger, Greenheck, Kice Fan, ILG Industries, Canada Fan, Industrial Air, Ceilcote, Breidert, Anderson 2000, Solar and Palau, Strobic air, Trane, TCF Axial.


Engineers and designers of industrial process and OEM blowers, fans and ventilators, such as high temperature fans, high pressure blowers and high volume ventilators, stainless and other special alloy construction, spark-resistant explosion proof blowers. Sales of centrifugal blowers and axial flow fans, blowers and ventilators.

industrial,process,blower,fan,ventilator,pressure,high,centrifugal,axial,inline,explosion proof,spark-resistant,high temperature,Garden City,TCF,Twin City,Northern,ILG,Industrial Air Products,Gas Engineering,American Coolair,ILG,IAP